Spring Women Tshirt N003
stars, based on
( 0 )
reviews
Material: polyester
Size: S-5XL
Color: White, Red, Dark Blue, Light Grey, dark Grey, Wine red, Light Blue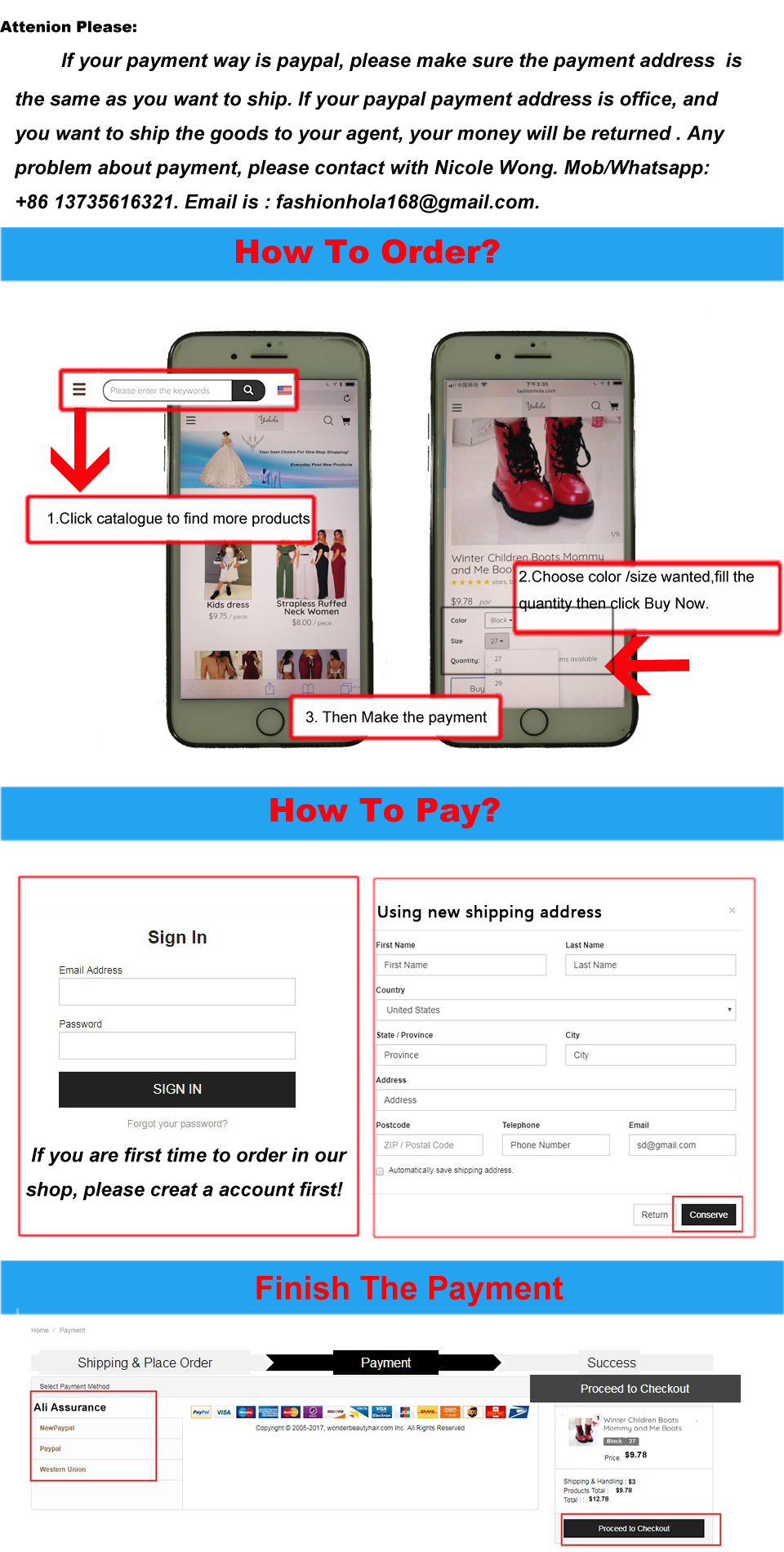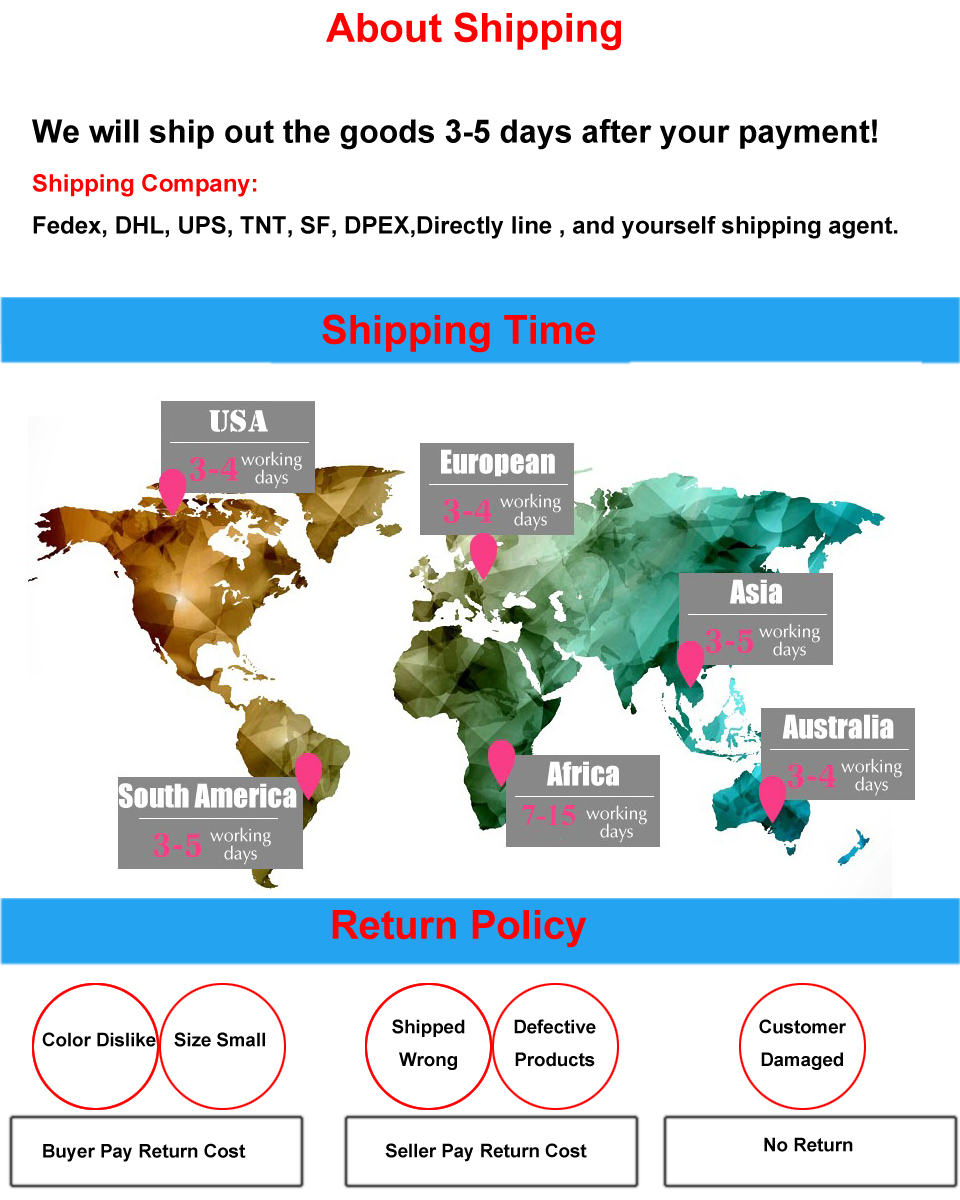 1 How to distribute your products
Re: You are welcome to become our distributor, each total order amount reaches 1000 usd will reduce 100 usd for you.
2 What's your men online shop?
Re: Our men clothes shop: https://fashionhola.en.alibaba.com/
3 What's your MOQ ?
Re: MOQ: 5 pcs per style
4 What's your delivery time ?
Re: Delivery time: 3 working days
5 What's your shipping company ?
Re: Shipping: We can ship by Fedex, DHL etc. any shipping company you want
6 How to pay shipping freight ?
Re: If ship by Fedex DHL, the freight need prepay, if ship by michael cargo, freight collect is recommend.
7 How long for shipping time ?
Re: Shipping time: 10-12 days (Air shipping ), if want to ship by sea please contact with shipping agent
8 The shipping is door to door ?
Re: Fedex, DHL are door to door
9 Can I use myself shipping agent ?
Re: Yes, we can ship the goods to your shipping agent warehouse
10 If large quantity can I have Discount
Re:Yes, if your order amount reaches 1000 usd, please discuss with our sellers for discount.
11 Where can I get the pictures ?
Re: We will put pictures both in facebook concerned group and our online store
12 How I pay to you ?
Re: West union (Recommend),Ali Assurance (Add 3% Ali charge ),Paypal (Add 5% Paypal charge ) ,T/T( add 35 usd per time )
Our on duty time: Monday to Saturday, Zambia time: (09:00 am-17:30pm)
OEM Servic Step:
Please check the fees of brand as follows:
1.Neck Label: 50 usd for quantity 1000pcs.
It is sew at the back of collar, nomally our suggest size is 6.5*1.5cm, due to MOQ of label is 1000pcs it means no matter order 100 or 1000 the cost all 50usd, so suggest customer order 1000 pcs then stock in our warehouse for future order to use.
2.Wash label: 50usd for quantity 2500pcs
If you want to reduce unit cost, suggest you use brand wash label instead of neck label,then it will be cheaper.
3.Tag: one side print for 1000:62usd , one side print for 10 000: 95usd Two sides print for 1000: 85usd, two sides print for 10 000: 155usd
It is printed by high quality machine,the more the unit cost is cheaper,you are welcome to choose a quantity suitable for you, then we will check cost for you.
4.Sew label to clothes: 0.2 usd per pcs clothes (one label or two lables are same)
It means if you order 73 pcs ,this part fees is 73*0.2usd=14.6 usd. Due to these quantity can't cut cloth to manufacture as order, so we need open the finished products to sew the labels then pack back, thanks for your understand for this cost.
5.Your total cost=Goods value+ label fees+tag fees+ sew lable fees
6.If you order 1000pcs labels but your order only used 100 pcs, the lft 900 pcs you are welcome to stock in our warehouse for future orders. Or require us ship with your orders.
You are free to choose the best one suitable for you!